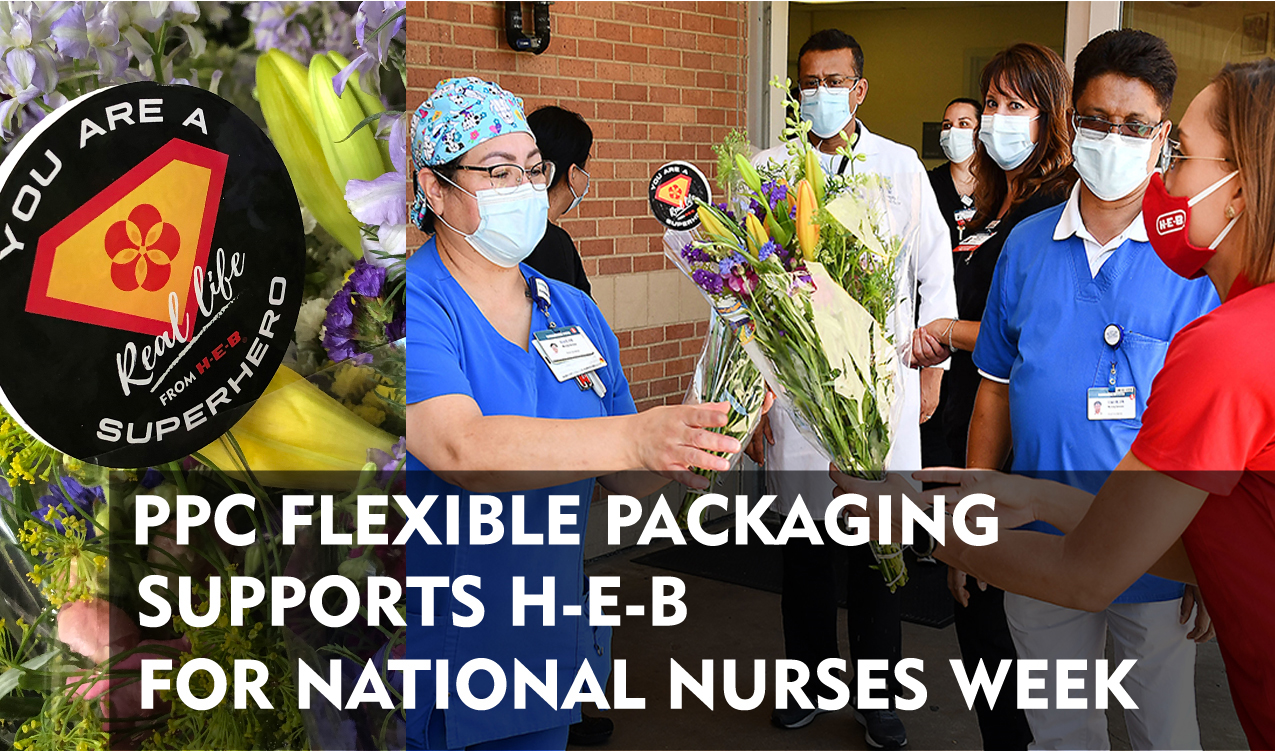 Buffalo Grove, IL, May 8, 2020 Temkin PPC is proud to support H-E-B during National Nurses Week. H-E-B, a major grocery store chain in Texas, has partnered with local growers, farms, delivery services, and Temkin PPC to surprise Texas nurses with more than 4000 plants and bouquets as a "thank you" for their hard work.
"NURSES ARE THE HEARTBEAT OF OUR HEALTHCARE SYSTEM. THEY ARE SELFLESS CHAMPIONS FILLED WITH CARING AND KINDNESS," SAID WINELL HERRON, GROUP VP OF PUBLIC AFFAIRS, DIVERSITY AND ENVIRONMENTAL AFFAIRS AT H-E-B. "WE ARE FOREVER THANKFUL FOR THESE HARD-WORKING HEROES ON THE FRONT LINES WHO SACRIFICE DAILY TO PROTECT THE HEALTH OF OUR COMMUNITIES."
Temkin PPC provided plant and bouquet packaging, including floral picks that feature their superhero campaign which celebrates everyday heroes, such as those in the medical field.
"WE WERE DELIGHTED TO TEAM UP WITH OUR PARTNERS AT H.E.B AND GIVE A TINY LITTLE BACK TO THOSE GIVING US SO MUCH RIGHT NOW," SAID TATIANA PEREZ, VP OF SALES FOR FLORAL/GIFT AND CORPORATE MARKETING AT TEMKI N PPC. THE DELIVERIES BEGAN ON NATIONAL NURSES DAY (MAY 6TH) AND ARE CONTINUING THROUGHOUT THE WEEK."
ABOUT TEMKIN PPC
Temkin PPC is a division of PPC Flexible Packaging TM . Temkin PPC designs and manufactures flexible film packaging for fresh-cut flowers and potted plants including sleeves, sheets, pot covers, and picks.
ABOUT PPC FLEXIBLE PACKAGING
Based in Buffalo Grove, Illinois, PPC Flexible Packaging TM is a leading provider of cleanroom and consumer packaging for the healthcare, nutraceutical, health and beauty, snack, organic, "better for you," horticultural and produce markets. The company excels in the design of value-added printed, laminated, stand-up pouch and re-closable packaging for the most demanding applications. With seven plants throughout North and South America and in-house graphics and plate-making capabilities, PPC Flexible Packaging TM is focused on exceptional speed to market and excels in delivering service, quality, technology and innovation to its valued customer base.